Chef went from waiting tables to becoming a major player in the world of fine cuisine
https://www.santafenewmexican.com/news/local_news/chef-went-from-waiting-tables-to-becoming-a-major-player-in-the-world-of-fine/article_154f21b6-e112-11ec-b00c-efe7b6ff7cad.html
Fernando Olea just can't seem to rest on his laurels.
Though he's tried to retire as a successful chef and restaurateur before, his love for creating innovative, satisfying food keeps bringing him back. And now that he's won a prestigious James Beard Best Chef Award, the co-owner and executive chef of Sazón in Santa Fe said he has no choice but to reach an even higher standard.
"What it means to win the James Beard Award is I'm going to have to keep pushing more," Olea said.
The 30-year veteran of kitchens and dining rooms in Santa Fe — including ownership stints at well-known eateries like Bert's Burger Bowl and Epazote on the Hillside — was named Best Chef for the Southwest region Monday by the James Beard Foundation, which celebrates and supports the people behind America's food culture.
Olea was picked over four other chefs in the Southwest region, a list that included Martín Rios, chef/owner of Restaurant Martín in Santa Fe.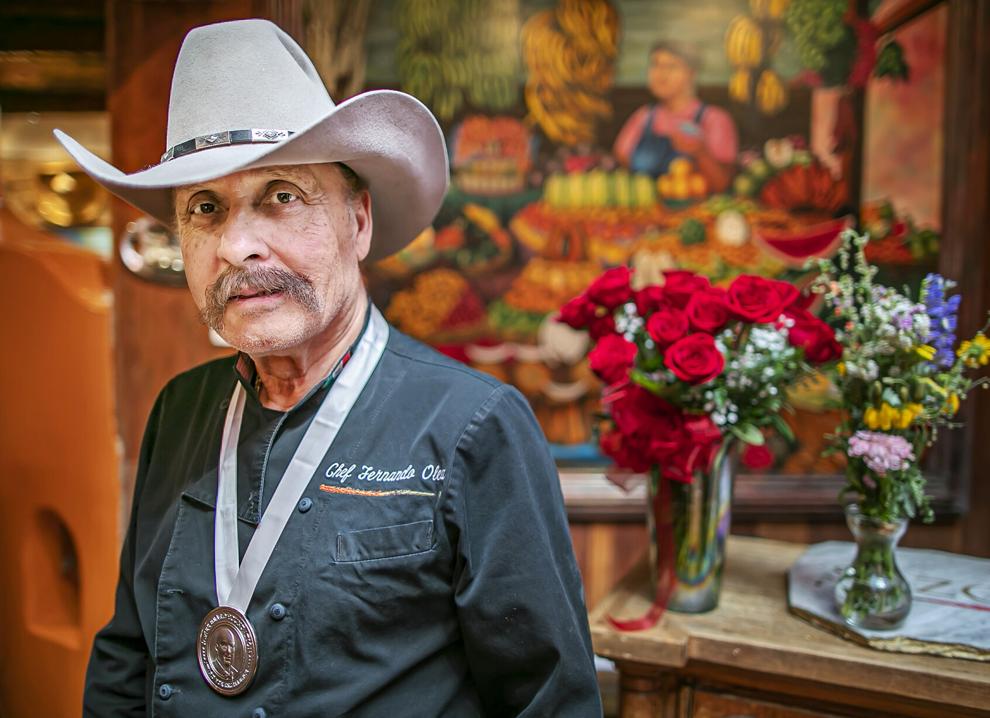 Olea, 71, is the first Santa Fe winner as a Best Chef since Mark Kiffin of The Compound achieved the feat in 2005. Upon hearing his name called Monday, Olea jumped up from his seat at the Lyric Opera of Chicago and spread his arms wide on stage as he made his remarks — wearing his trademark wide-brimmed black hat.
"I felt like I was dreaming," Olea said in an interview with The New Mexican.
An independent, volunteer subcommittee of the James Beard Foundation's board of trustees and at-large members picked the winners. The awards were established in 1991 to recognize exceptional talent and achievement in the culinary arts and a demonstrated commitment to racial and gender equity, community, sustainability and a culture where all can thrive.
Such recognition was not part of Olea's life as he grew up in Mexico City. He met his wife-to-be Debra in Mazatlan, and they moved to Minneapolis, where she was from, in 1983.
In 1991, they came to Santa Fe, where Olea had relatives with a furniture store. But Olea met Fred and Barbara DeCastro, who owned Bert's Burger Bowl.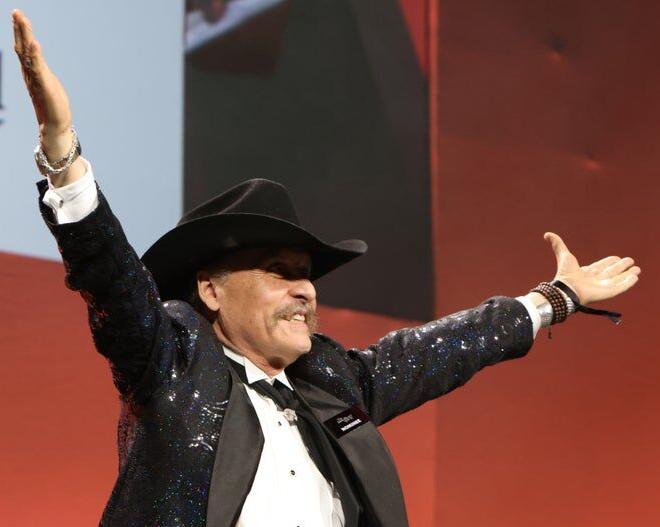 "They wanted me to have it," Olea said.
Suddenly, Olea for the first time was a restaurateur.
"I started doing Mexican food at Bert's Burger Bowl," he said. "That gave me the vision for Bert's La Taqueria [in about 1997]."
Olea shifted to fine dining in the 21st century, opening the upscale El Encanto in 2001, renaming it Epazote in about 2008. He relocated it from Agua Fría Street to Old Las Vegas Highway and called it Epazote on the Hillside.
"It was very tough," Olea said of those nearly 15 years. "I was trying to survive. It was not the right time for Mexican food."
Olea was referring to the cuisine eaten in Mexico, rather than the vastly different interpretation of Mexican food in the U.S. "What we needed was the right time," he said.
The time was just about right as he closed Epazote with his "little bit of money."
But the story wasn't going to end there.
Lawrence Becerra, a hedge fund manager, and Suzanna Becerra, an interior designer, started dining at Epazote about 10 to 12 years ago and had gotten to know Olea. With Epazote closed, Olea called Lawrence Becerra and asked if he knew of any potential investors for what was to become Sazón. A couple days later, Becerra decided he would be the backer.
"We thought he was a wonderful character," Lawrence Becerra said. "Fernando's job is to run the kitchen, the cuisine and the front of house. I had someone who had a vision for ambiance: Suzanna. What I bring to the party is financial acumen."
Olea said he and the Becerras have a 50-50 partnership, and Sazón launched in September 2015. Accolades followed, including the AAA Four Diamond rating. Then came a fire in May 2019, damaging upstairs office areas but closing the restaurant until December 2019. Three months later the coronavirus pandemic shut down the restaurant industry.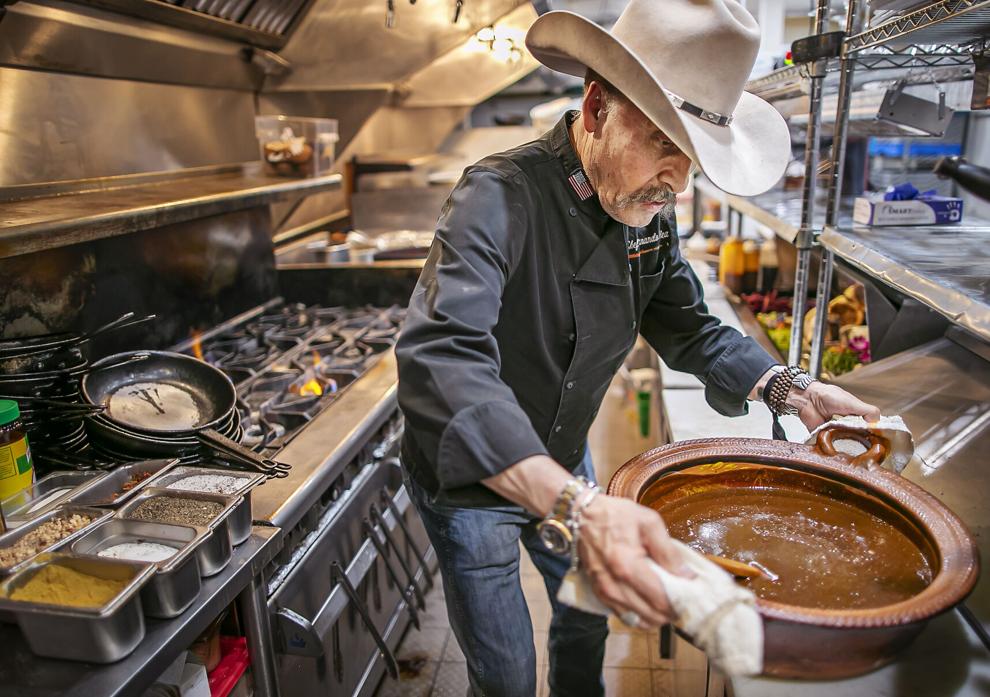 "For that whole time, we paid our entire staff," Becerra said. "There is a sense of family. We were nervous [about opening after the fire]. We did not know if people would come back. It's been quite a journey."
Olea describes the Sazón cuisine as New World cuisine with the flavors of Mexico. Molé is the heart and soul of the Sazón cuisine.
"I have created a fusion of the flavors of the world with a base in Mexican," Olea said. "Spain, Native, Anglo and Mexican, it's a fusion of these four cultures."
James Beard awards are top of class in the culinary world, and Becerra said the honor for Olea "goes a long way to further establishing Santa Fe as a culinary town."
But then, Olea has come a long way — and said there's still a long way to go.
"More than anything, I have a dream," Olea said. "Retirement? What the heck is that? I love what I'm doing."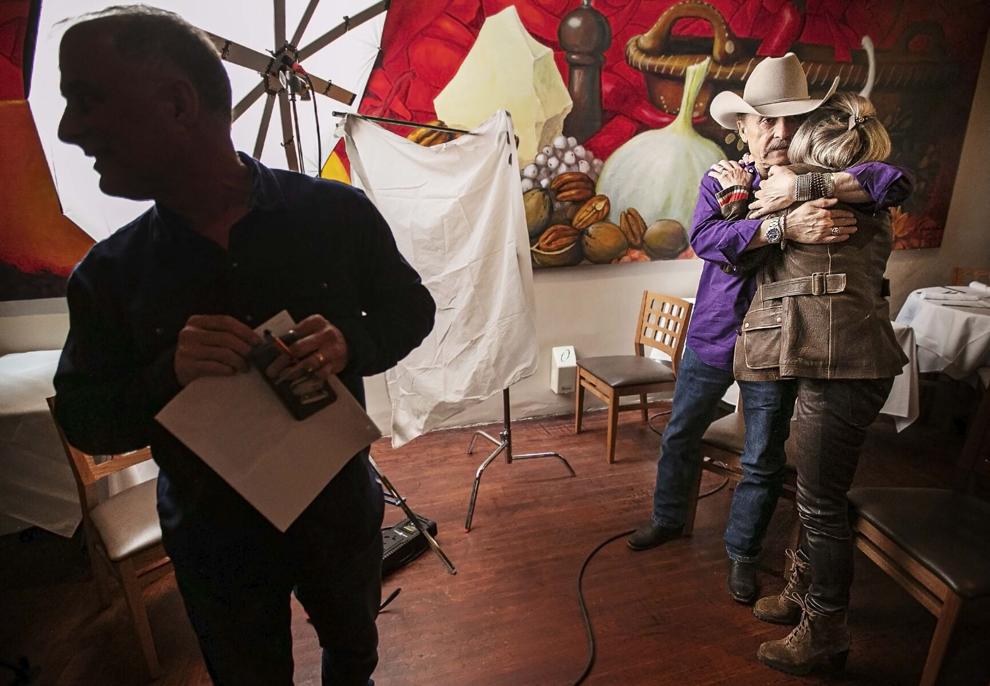 Share This Story, Choose Your Platform!